Bulk Stainless Steel Straws & Accessories
Stainless Steel Straws
Stainless steel drinking straws are constructed to last a lifetime and are a great alternative to plastic straws. They are the best eco-friendly alternative to single-use plastic straws.
Buy Bulk Reusable Straws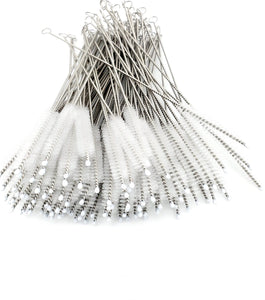 Stainless Steel Cleaning Brushes
Although the stainless steel straws are dishwasher safe, our BPA-free, 304 stainless steel and nylon bristles stainless steel cleaning brushes help keep your straws clean!
Buy Bulk Straw Cleaners
Organic Cotton Straw Carrying Bags
Our organic cotton straw cases will help keep your straws clean and easy to carry anywhere. Take your straws everywhere you go and keep them safe!
Buy Bulk Straw Carrying Bags
REUSABLE STRAWS: ENVIRONMENTALLY-FRIENDLY ALTERNATIVES TO PLASTIC STRAWS
Food-Grade 18/8 stainless steel.
No funky aftertaste.
Plastic free.
BPA free.
Dishwasher safe.
Easy to clean.
Rust proof and scratch proof.
Our 100% Eco-Friendly Shipping Process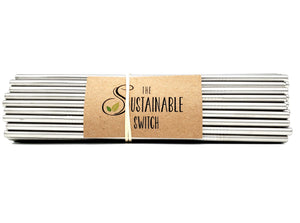 Reusable straws come grouped in a reusable rubber band (optional)
100% recyclable/compostable paper stuffing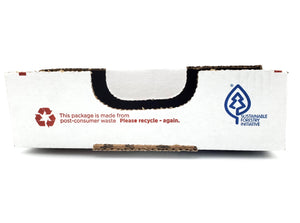 Recyclable boxes made from post-consumer waste
"We don't need a handful of people doing zero waste perfectly.
We need millions of people doing it imperfectly."
Testimonials from our awesome customers
We wish we could give them 6 stars! 🌟🌟🌟🌟🌟🌟We recently added some custom stainless steel straws to our online eco-friendly shop. The service was excellent from start to finish!! Highly recommend👍🏽

Love Punched | Kathy Shippen - Owner & Creator
It was an excellent experience! The process was simple, and the team was very quick to help with any questions we had. The product was exactly what we expected and the branding was perfect! 

I Love A Clean San Diego (Environmental NPO) | Becca Kuntz - Marketing Coordinator
I highly recommend The Sustainable Switch to anyone or business looking for bulk sustainable lifestyle supplies.  It was an excellent experience. Cannot recommend this more!

Zero Waste Deli & Grocery | Colleen Miner - Founder